As new parents who are taking their first steps into raising a child, countless things need to be considered and researched to ensure that it's suitable for a baby. Among those things is the worry of keeping your baby safe and warm throughout the night, without startle reflexes or rolling over. This is where sleep sacks help your baby sleep comfortably and safely through the night.
Sleep sacks are medically recommended and considered safe for babies as they prevent Sudden Infant Death Syndrome (SIDS), so picking one over a blanket is the best for your baby.
Having said that, the question arises: What is the best sleep sack?
To answer that, we have thoroughly researched and reviewed sleep sacks that would be perfect for your baby. So start reading to find out!
What Is a Sleep Sack?
Usually, sleep sacks are defined as wearable blankets that are constructed to keep your baby safe from startling awake and ruining their sleep. It ensures that your baby stays warm, doesn't make any reflexive movements, and remains cozy so that they have a relaxed and undisturbed sleep.
Although they are zipped to be closed, they still provide enough room for comfortable movement for the baby; they protect instead of confine the baby so their sleep is undisturbed.
Sleep sacks were introduced after a high rate of deaths from SIDS related to loose blankets. Because of the protection and comfort they offer even in the early months, they became the ideal alternative for baby blankets.
Woolino 4 Season Ultimate Baby Sleep Bag Sack
The Woolino 4 Season Ultimate Baby Sleep Bag Sack is widely recognized as one of the most remarkable sleep sacks for babies. It offers premium quality and unique features distinctive to its name. Apart from the two-way zipper lined inside and double shoulder snaps for comfortable changing, the sleep sack features body temperature regulation and a universal size that fits all babies.
How can a sleep sack regulate body temperature? Well, the Australian Merino wool lining ensures that your child remains cool when it's hot, and warm when the weather changes to a cooler temperature; hence, the name 'Woolino 4 Season.' This sleep sack will comfort your baby throughout the four seasons.
Another amazing thing about this sleep sack is that it offers a universal size that ranges from two months to two years old. The underarm snaps can be adjusted to fit your baby, regardless of their age and size, thus making this sleep sack a one-time investment that goes a long way. You wouldn't have to worry about buying new sleep sacks every few months for your growing baby.
The Woolino 4 Season Ultimate Baby Sleep Bag Sack comes in ten different colors, designs, and patterns, depending on what you prefer for your baby or what catches your eye.
HALO Microfleece Sleepsack Swaddle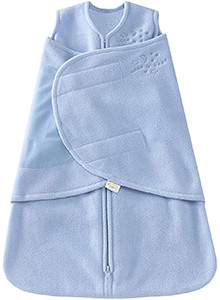 Pros
Made from 100% Polyester with micro-fleece fabric
3-way adjustable swaddle (Arms in/Hands-to-Face/1 or 2 Arms Out)
3 Sizes Offered (Small, Newbie, and Preemie)
Inverted zipper
Machine Washable
22 Different Colors and Designs (Baby Blue/Bowties Blue/Cream/Dino/Grey Diamond and Leaves/Leopard Pink/Mini Heart Pink/Mini Stars Charcoal/Mint Green/Multi Stripe Gray/Multi Stripe Blue/Pink Leaves/Sand + Stone/Sky + Sea/Soft Pinks/Swans/Animal Faces/Confetti/Gray/Heartline/Mint/Turquoise Diamonds)
The HALO Micro-Fleece Sleep Sack Swaddle is a renowned name in the world of hospitals and childcare, considering its effectiveness in minimizing reflexive movements and safe swaddling. Since the motivation behind the creation of this company is related to Sudden Infant Death Syndrome (SIDS), the sleepsack swaddle does an amazing job at keeping your baby comfortable and in preventing the risk of SIDS.
This sleep sack replaces loose blankets that pose the risk of not controlling the child's reflexes and movements while also sometimes covering the face, stifling the baby's breathing.
The HALO Microfleece Sleepsack Swaddle comes with three adjustable sizes that are fit for different situations and sleeping styles of your baby while ensuring that the startle reflexes are minimized.
'Arms in' is the ideal swaddle style for preventing reflexes, while 'Hands-to-Face' is soothing for the baby. The '1 or 2 Arms Out' is perfect for an easy transition from swaddling.
It is made from 100% polyester with micro-fleece fabric and plushy-dot Velboa, which is very comfortable for a baby to sleep in. The HALO Micro-Fleece Sleep Sack Swaddle comes in 3 sizes; Preemie for birth to 2 kg, Newbie for 3 to 5 kg, and Small for 6 to 8 kg.
TILLYOU Breathable Cotton Baby Wearable Blanket
The TILLYOU Breathable Cotton Baby Wearable Blanket stands out as the ideal sack for summer with no sleeves and the most breathable fabric, thus making sleeping tranquil for both you and the baby.
The fabric is hypoallergenic, ensuring that your baby's skin remains safe from rashes, and can be washed in a machine and dried out easily, which makes the sack long-lasting, too.
The best part is that it has a two-way protected zipper so it doesn't hurt the baby's belly or jaw from any movements. One of the zippers is at the top so it's easier to place the baby in it, while the other is at the bottom for easy and convenient diaper changing without having to remove the entire sack. This is helpful for babies who love to move and makes it challenging for them to be placed in a sleep sack.
Available in four sizes, small, large, medium, and XL, the sack offers enough space to allow kicking, but the baby cannot kick the sack off. They stay comfortable, safe, and warm throughout their slumber.
Burt's Bees Baby Unisex-Baby Beekeeper Wearable Blanket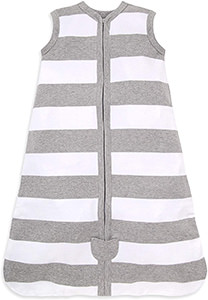 Pros
100% Cotton
0.5 TOG
Lightweight and Breathable
True to Size
Zipper Closure from Bottom with Zipper Guard
Machine Washable
Great Value
17 Different Colors and Designs (A Bee C Cloud/Bees & Leaves/Friendly Bears/Giraffe/Hello Moon/Honey Bee Cloud/Midnight Stripe/Quilted Elephants/Quilted Garden/Quilted Grey Rugby/Quilted Sheep/Rosy Spring/Rugby Stripe Blossom/Rugby Stripe Heather Grey/Sea glass Rugby Stripe/Sweet Doe/Twinkle Bee Midnight)
Burt's Bees Baby Unisex-Baby Beekeeper Wearable Blanket is one of the safest and most comfortable sleep sacks for your little one. It is made from pure, lightweight cotton that is both breathable, and hypoallergenic for the baby's skin.
The best part about this wearable blanket is the zipper closure is at the bottom, making it convenient to change diapers without having to take the entire sack off. The zipper has a guard that prevents any injury or rash to the baby's skin.
The Burt's Bees Baby Unisex-Baby Beekeeper Wearable Blanket is machine washable and can last for years, thus being of great value. It comes in three different sizes; small, medium, and large, and is true to its size while providing enough room for the baby to move within it safely.
Nested Bean Zen Sack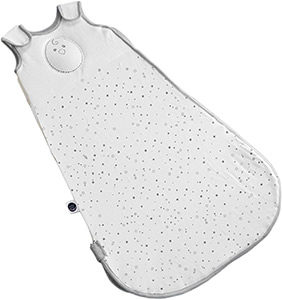 Pros
100% Cotton
0.5 TOG
Gently Weighted for Self-Soothing
Two-Way Zipper
Adjustable Shoulder Snaps
3 sizes ranging from Newborn to 24 Months of Age
14 Different Colors and Designs (Night Sky/Stardust Grey/ This Way 'N That Way – Grey/ This Way 'N That Way – White/O Me O My – Grey/O Me O My – White/Sand/Stardust Pink/Doodles/Lavender/Lemon/Puffin Party/Stardust Blue/Grey)
If you need your baby to experience a constant, soothing pressure while sleeping, as they feel when being held in your arms, then the Nested Bean Zen Sack is the sleep sack you need.
The Zen Sack is designed to mimic the pressure of your hold, one your baby would feel if you held them through the night. This promotes a peaceful sleep where they can remain comfortable for hours as they self-soothe. Since it has a two-way zipper, you can easily change their diaper without worrying about them waking up or disturbing their sleep.
Being made from pure and breathable cotton, the sack itself is calming for your child and safe in most conditions.
You can find the Nested Bean Zen Sack in three sizes, suitable for ages up to two years while addressing any disruptions and reflexes the baby might have as they grow. The adjustable shoulder snaps also adjust to the growing body of your baby, making this sack great in worth and value.
What to Know Before Buying a Sleep Sack?
Although all sleep sacks are designed similarly and perform the same functions, there are still a few features to consider when picking out the one that's worth it.
The first thing to consider is the size of the sack, as you would want your baby to fit in it perfectly, so you need one to accommodate the height and weight of your baby.
The material of the sack needs to be made from softer materials such as cotton, polyester, or wool, you can better judge which one works best for your baby. You should also consider the temperature of your residence to know exactly how thin or thick the sack should be to keep your baby comfortable.
Lastly, you need to pay attention to the straps, zippers, and sleeves. The zipper can be one-way or two-way, depending on what's feasible for you. The same goes for the straps to see if they're adjustable or if the sack is sleeveless.
FAQs
When should babies stop wearing sleep sacks?
Although there is no definite age for a baby to stop wearing sleep sacks, it is recommended to stop at twelve months of age or when the baby starts growing.
What material is best for a sleep sack?
Wool, or specifically Merino wool, is considered the best material for a sleep sack as it regulates body temperature and provides comfort throughout the year.
Do babies sleep better in sleep sacks?
Being in a safe, comfortable, and protective sack, the babies tend to sleep better in it.
Is a sleep sack worth it?
Sleep sacks are worth it as they reduce the risk of Sudden Infant Death Syndrome (SIDS) among newborn babies. These sacks are a safer and more comfortable alternative for blankets, which pose several potential risks for a baby.
Can you use a sleep sack when the baby rolls over?
When the baby starts to roll over, the swaddle sacks are not recommended to use, except for sleeveless sacks as they offer a safer sleep and allow rolling over.
Can a baby sleep in just pajamas?
Yes, a baby can sleep in just pajamas, given that the pajamas are from breathable material and hypoallergenic, such as cotton or muslin.
Do some babies not like sleep sacks?
Some babies do not go well with sleep sacks if they wiggle a lot, start rolling over early, or start getting hot inside the sack.
Should babies wear sleep sacks in summer?
Wearing sleep sacks in summer is not an issue and up to the parents to decide. However, they must ensure that the sack is made of breathable materials and that the baby is either in a thin onesie or just a diaper to avoid overheating.
When should I start using a sleep sack?
The best time to start using a sleep sack is when your little one is safely leaving the swaddle and is allowed a bit of mobility.
Can Sleep Sacks be too long?
Yes, they can be too long if not bought according to your baby's size. However, it doesn't matter much as the sack is perfect as long as it fits the neck and arm of your baby.
How do you transition from a sleep sack to a blanket?
Transitioning from a sleep sack to a blanket takes a little time and effort but can be carried out easily, the idea is to get your child familiar with using a blanket over time. You can start by using either a lightweight blanket or just a cover, so the transition doesn't feel too jarring for the child.
Is a sleep sack warm enough?
Considering the fabric of the sack and the temperature of the room, the sack can be warm enough for the baby. The material is usually warm but breathable to keep your baby at the ideal temperature for them to sleep peacefully.
Can an 18-month-old sleep with a blanket?
Yes, it's fine for an 18-month-old to sleep with a blanket as long as it's ensured that the blanket is small, lightweight, and breathable to avoid any risks.
The Bottom Line
After going through this list, you should have a clear picture of which sleep sack you need for your baby. There are numerous factors to consider, which we've already discussed. Therefore, it is up to you to pick the sleep sack that you deem ideal for your baby, which is the one that keeps him safe, comfortable, and peaceful for their sleep hours until they grow out of it.