Are you looking for a good recliner? We all know how important sleep is, whether you are a healthy young person, or you're getting older, suffering from insomnia, or recovering from an operation. A good night's sleep can be one of the most effective health interventions a person can experience. However, going to bed isn't always the best or most convenient option.
Sometimes you just need forty winks in an easy chair, and that's where a good recliner can prove useful.
In recent decades, recliners have been a boon to everyone who wants to grab a quick nap without having to get up and climb the stairs. They have become a totem of popular culture, such as Joey's famous recliner in the hit sitcom Friends.
Now, as well as being a comfortable addition to any household, these recliners allow senior citizens and people recuperating at home a degree of freedom and relaxation previously unavailable. Let's have a look at the advantages these lifesaving pieces of furniture have over a bed, no matter how comfortable or elegant that bed might be.
Why Recline?
Recliners ease the transition between sitting upright and lying flat. Whether you are dozing off or getting up, the experience is easier and more relaxing with a chair that does half the work for you. Raising your legs can help with blood circulation and fluid retention, and cradling the neck and spine in something close to its natural S-shape can often be healthier than staying in a flat position as you might in a bed.
If you suffer from medical issues like insomnia, physical pains, or are recovering from an illness or operation, getting a bit of extra sleep whenever you can is a great boon. Recliners allow you to gently drift off into sleep and wake when it is natural to do so. Then, when you choose to rise, the chair can elevate you to a straight-backed sitting position, slowly, without undue trauma.
The best recliner chairs even have electronic controls to raise you back to an upright position. Many of them have options such as cupholders, magazine pockets, remote control or USB-ports built in for your convenience. Some also provide a heat function to warm different parts of the seat.
Another key advantage of sleeping in a recliner instead of a bed is being able to wake quickly. If you need to transition quickly from sleep to wakefulness, for example, if someone rings the doorbell, you'll already be dressed, instead of leaping out of bed and searching for your dressing gown.
Recliners sometimes boast additional features that ergonomically assist users with mobility issues or other impairments. Some of the best may have built in lap-trays for reading or writing on, extra support for the head and neck, separately adjustable footrests, heating pads, or even electronic massaging functions. There is a huge range of chairs now available, with manufacturers and suppliers worldwide.
Health Benefits of Reclining
When we sleep, we are often inadvertently constricting the trachea, making breathing harder than it need be. Sleeping on one's side is probably healthiest but isn't a comfortable or natural position for many people. Recliners allow the airway to be maximally open, making it easier to breathe while asleep. A 2017 study showed that, for similar reasons, sufferers of obstructive sleep apnea had their symptoms alleviated by an increase in head elevation of just 7.5 degrees, let alone the 30 or 60 degrees common to recliners.
If you suffer from pains such as heartburn (acid reflux, caused by stomach acid seeping up the esophagus), then sleeping in a reclining position, with the head and chest raised a little higher than the stomach, will help minimize this problem.
An elderly person who can seat and rest in a chair can engage with a larger social group, rather than being isolated alone in a bedroom. They are more active, too, at least to the extent that they can more easily get up and move around from a recliner than from a bed. Sleep quantity and quality are improved, with naps taken throughout the day adding to the therapeutic effect of nighttime sleep.
When buying any type of recliners, make sure you ask who will be using it and whether you are primarily buying it for therapeutic reasons, like reducing a back pain, or only to seat for relaxation. Certain chairs will be more or less suitable for the elderly, providing lift functions. A key question is whether you want it to be electronic, manual, or a combination of both to help you get up from your seat. The room you will be installing it in is another key factor. If the person is watching television or eating, you may require different features than if it is primarily a piece of furniture for sleep or relaxation. Lastly, don't forget to check for the maximum weight capacity if needed.
Let's have a look at what types of recliners exist, by singling out five of the very best recliners for sleeping currently available:
CANMOV Rocker Recliner Chair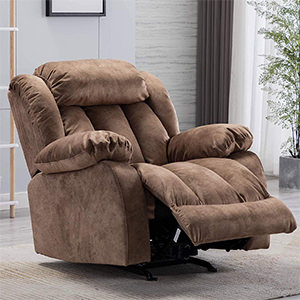 Pros
Sturdily built with a good product guarantee
Easily-operated lift mechanism
Well-padded and comfortable
Useful rocking mechanism
Cons
Footrest can be a little tricky to push back in
Footrest does not operate distinctly from the backrest
Requires some assembly
May not suit a very tall person – perfect for anyone up to six feet tall
Does not tilt close to horizontal (180 degrees)
The CANMOV chair is called an "overstuffed" reclining chair because it has a greater degree of padding materials than similarly-designed armchairs. It is designed to hold the body in several positions and recline at 110 degrees and 145 degrees. The former is designed for television watching and reading, and the latter for sleeping.
The recliner includes a footrest, which moves up when the back is pushed down. It has wide armrests, and its reclining mechanism is operated with a hand toggle under one of the armrests. It comes in a neutral gray-navy color, and its reclining mechanism is guaranteed for 25,000 operations.
As well as a recliner, from its right-angled position, the chair can rock, making it ideal for anyone who finds rocking restful or perhaps for a nursing mother to help get her back to sleep. Of the chairs in this review, only the CANMOV has this facility.
Blankets and other bedding can be stored behind the footrest in a hollow compartment.
Esright Electric Power Recliner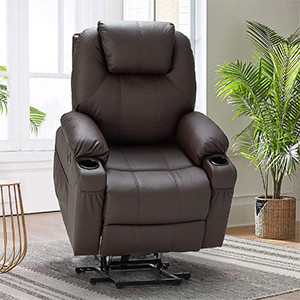 Pros
Lift and tilt feature is a helpful addition
Multiple massage zones will aid recovery and relaxation
Heated lumbar pad provides relief for sore backs
Cupholders and USB port are helpful additions
Cons
Does not go all the way back to a flat position
Lettering on control too small for poor eyesight
Recliner's footrest does not separately adjust
As its name suggests, this recliner has electronic controls to help you lift and is highly flexible, with a maximum weight capacity of 330 pounds. As well as reclining at varying degrees up to 150, the chair can also lift and tilt forward, to help senior users stand from their seat. It does not recline as far as the CANMOV chair but has several additional features.
Firstly, it can provide a heated, four-point vibration massage (shin, thigh, lumbar, or head). All of these points can be adjusted separately using a handheld, wired control (wired so that you cannot lose it). The heating pad is situated under the lumbar region to help soothe sore backs and provide maximum comfort when you seat.
Secondly, the recliner comes with a USB port on the side so that you can plug in your tablet or smartphone. Reclining and tilting controls are situated on the sides of the USB-port, located on the side of the chair.
Finally, it has cupholders on both sides. This is no small addition since an elderly person may be more inclined to spill hot liquid.
The recliner is upholstered in easy-to-clean dark brown imitation leather materials.
Mecor Lift Chairs Recliner
Like the previous chair, this recliner combines its reclining features with massage and lumbar heating features. Also, like the Esright recliner, it can lift a user into a standing position. It tilts to a full 160 degrees, which is just 20 degrees away from the horizontal. The reclining feature can be initiated manually, then tweaked with electronic controls.
The Mecor's features are similarly operated from a handheld control unit, and this is helpfully designed with visual icons rather than text.
The recliner has side pockets for books or magazines on both sides as well as its twin cupholders. The control unit can also be stored here for ease of use. It is finished in black imitation leather, which should be wipe-clean and would suit many interior styles, although it is a little stark.
The recliner has overstuffed armrests and a headrest, although it does not have wings for users to rest the side of their heads against. The chair is made of memory foam fabric for maximal comfort.
YANXUAN Pushback Recliner Chair
The remarkable thing about the Yanxuan chair is that it doesn't look like a recliner at all. It is designed in a classic armchair style and comes in four colors – cream, dark blue, light or dark grey. It even comes with wooden legs and has space beneath to make vacuuming around it considerably easier.
It doesn't come with cupholders or side-pockets, or anything to suggest this is something other than an elegant armchair in which you'll enjoy to seat. However, you can recline it manually up to 170 degrees, although this will involve some effort, as will returning it to a right-angular position. This chair would not suit an especially elderly person. It is not designed for recuperation so much as general relaxation.
The footrest can be raised or lowered separately from the movement of the rest of the chair. The mechanism is guaranteed for up to 25,000 operations.
This recliner does require some assembly but is easily the most elegant chair we looked at.
Bonzy Home Power Recliner Chair
If this recliner looks a little like a luxury cinema seat, that's probably no accident. It does seem to be inspired by the recliners you might see in a high-end theater. Like the Esright chair, it combines a USB port and side control to raise and lower the chair electrically.
Although it does not have side-wings on the headrest, the overstuffed padding should cradle the head and neck well. The chair has no cupholders and sensibly has backward-tilted armrests for comfort and discourages cups from being rested there. A side table would be a useful companion for this chair.
The Bonzy is upholstered in a faux-leather material called air suede, which looks classy and should be moderately easy to clean. Some simple assembly is required. This recliner tilts to around 150 degrees.
Given its high comfort styling, it does seem a shame that no cupholders are included and that the footrest does not separately incline.
And the Best Recliner for Sleeping is…
The Mecor Lift Chair Recliner is both versatile and well-designed. It may not be the most beautiful of the chairs on review, but as a chair with both mainstream relaxation and specialist therapeutic features, it is a very well-designed piece of furniture and overall the best choice you can make.
Its sleek black upholstery would suit most settings, and it has very simple controls and reading material storage to assist elderly users. The fact that it can raise you to your feet, provide a massage, or recline almost fully back makes it extraordinarily flexible.
A close runner-up, but for very different reasons, would be the Yanxuan recliner. In a sense, it's the recliner for the household which could never tolerate a Lazyboy. Discretion and style are the Yanuxuan's unique selling points, making it the only recliner in this list you could install in a chic reception room.
That said, all of the recliners in this list have much to recommend them and should provide major health benefits for the user.