Approaching summer must be giving you chills merely by the thoughts of restless, sweaty nights. This is the case with almost everyone, especially for those who cannot afford an air conditioner running all night or people who cannot sleep comfortably in the dry AC environment.
Hot, humid summer nights cannot be passed with a fan only. The warm air circulating in the room adds only more to the misery. The noise fan makes is no less than a nightmare, which disturbs your sleep all night.
If you are searching for something that can make your summer nights peaceful, fortunately, you landed in the right place. We will review the best bed cooling systems, how to use them, who can use them, and everything that your brain is questioning at the moment.
How does a cool environment help you sleep better?
It has been discovered by scientists that a relaxed environment helps you to sleep better. According to the National sleep foundation, they have researched and found out that an ideal temperature for sleeping is 59°F to 68°F.
This is true up to an excellent extent, as I have experienced a delay in sleeping when my body is sweating, or the air circulating in the room is way too warm.
You might have also experienced that you feel inconvenient to sleep on regular summer nights than on a rainy right. The air on a rainy night is cool, making it comfortable to have a magically swift slumber.
The question here arises, why is it necessary to sleep in a cool environment? Well, it is essential to note that sound sleep will keep you productive throughout the day, and proper sleep is possible only in a cool environment.
If you have ever experienced a sweaty night, you will understand how exhausted and tired you felt even though you had a good eight hours of sleep.
The conclusion is, sleeping in a calm environment is necessary, along with adequate hours of sleep. This will keep you fresh and improve your overall mental and physical health.
What is a bed cooling system?
Before I tell you the types and use of bed cooling systems, you must understand what it is. A bed cooling system is not some specific type of machine or device. It is a system having some cooling components that will keep you cool all night.
There are several types, depending upon the method they use to cool the air. Some of them are using water, other air cooling, and even bed cooling fans are also available.
Categories of bed cooling system
Generally, bed cooling systems are divided into two categories :
Passive systems
The passive system is basically made to balance the temperature of your bed. It basically uses fabric technology to regulate the heat changing. They work by trapping the heat from your body or mattress, ultimately balancing the temperature.
The mattress toppers use the gel-infused memory foam or bed, which maintains a cooler temperature.
Cooling pads and cooling mattress toppers are some of the examples of passive cooling systems.
However, this system will not work for extremely hot regions. The heat trapped inside the fabric needs to escape out. Therefore, passive cooling systems are not comfortable for hot, sweaty nights.
Nonetheless, passive cooling systems are always cheaper, and they can be used during changing weather.
Active systems
Active systems are designed to remove heat from the room and give a cooling effect. These are definitely costly when compared to the passive ones but are worth the money.
Active cooling systems have a broad range from the most complex and costly air conditioner to the air, water, and other bed cooling systems.
Despite using an air conditioner, other systems were developed to provide people with a better-ventilated environment, keeping costs as low as possible.
Water cooling systems are most popular in really hot regions. chiliPADs use the water to produce a cooling effect. In it, the cold water circulates through cooling pads or mattress toppers. This thing not only eradicates the heat but also gives a cooling effect.
Air cooling systems include the most famous BedJet. BedJet works by pushing the air into your sheets, but it has to cool the air before. The air pushed inside the sheets keeps your whole body relaxed.
How to choose the best cooling system?
Before taking you to the best bed cooling products, it is necessary to know what things you should look for in a good cooling system. Some of the things you should pay special attention to are:
Film
It is one of the most important things to consider while buying a mattress topper. You should choose a better-filled pad. A product whose each pad is filled with a fiberfill is a luxurious one. This fiberfill is so far the best one in the market. The presence of it will give you a feather-like softness. Not only does it feel soft in touch, but it also feels so good when you lay on it. This will help you in sleeping sound at night.
Hypoallergenic
If you are sensitive to any kind of allergies, don't forget to check if the mattress topper is hypoallergenic or not. Finding a topper might be hard for you if you are experiencing allergies. Hypoallergenic products will save you from allergy-affecting microorganisms like bacteria, algae, and fungi.
Size
You are buying a mattress topper so that it will provide you a cozy, peaceful sleep, unlike the existing mattress. Make sure the size of the topper is precisely the size of your bed. Anything less or more than the actual size will only make it bothersome for you. Toppers are usually available in various sizes, including large, extra-large, and queen king size. Measure your mattress and bring the topper accordingly.
Bulky cooling topper
Avoid bulky cooling toppers and go with a product that is stitched elegantly with each pad at its place. A Metered hem is preferable as it prevents the fill from moving inside the topper.
Composition
Make sure the topper you are selecting is made up of materials that are eco-friendly, as well as it does not cause any harm to your health. Also, make sure the product is washable to avoid any trouble later in the future.
How do the toppers and pads work?
Bed toppers and pads play their part in cooling by absorbing the heat completely from the mattress and your body and gives off a cooling effect. The cooling effect a topper or a pad produces depends upon the material it uses.
If the product uses gel-infused memory foam, it will allow more air to flow, and the breathability rate is also higher. Allowing for better ventilation is the key in the products using gel-infused memory foam. This will keep off all the heat and give you a long-lasting cooling effect.
Thermolecules is another material that is used by Outlast Iso cool mattress. It will trap all the heat from your body and keeps you cozy and comfortable.
Advantages of cooling systems
Coming home after a long tiring day at your workplace demands a comfortable nap, but what if the weather is not allowing it? We are together in this. That was my problem as well for a long time. The objective was to find a better and long-lasting solution. After adequate research, I got to know about bed cooling systems. The hard work of researching and the money I spent paid off when I bought one. You will be amazed to know how helpful cooling systems have proven for me.
Traps the heat of your body and mattress
Unlike ordinary mattresses, they do not retain all the heat inside, which makes you uncomfortable throughout the night. Not only that, it traps the heat that you release. A body tends to remove the excess heat from the body to keep the temperature at its normal. If your body gets too warm, there are risks of hyper exhaustion (body getting hot that leads to heatstroke) and hyperventilation (where you breathe faster than usual).
Keeps off night sweating
If sweating keeps you awake at night and hinders sound sleep, You can prevent sweating at night by using cooling pads and toppers. They are especially beneficial for women who are going through menopause and perimenopause.
Lose weight
Having a bulky body is another problem faced by adults all around the world during the summer season. In research conducted by the National Institutes of Health, it was found out that a calm sleep will help you lose weight. A cooling pad or a topper boosts up your metabolism and increases the volume of brown fat in your body. This ultimately burns the calories in your body, and there you are, getting a cool sleep all summer and losing weight side by side.
Environmental friendly
While you are spending on a cooling pad or a topper, you do not have to worry about it causing harm to the environment. Other active cooling systems such as air conditioners release a lot of carbon dioxide (greenhouse gas) into the air while causing pollution. Cooling pads and toppers are entirely safe and eco-friendly in this regard. Moreover, some hypoallergenic pads are even safe for people who have allergies.
Tips to get full advantage of cooling systems
A beneficial tip is to take a bath before sleeping in the summer. A cold bath feels necessary in such weather. Moreover, this way, your body will eradicate less heat, and the pad will trap less heat too. It will give you a better cooling effect this way.
You should try to exercise in the morning or late in the evening during the summer days. These times are comparatively more relaxed than the rest of the day. You will feel less exhausted after the exercise. Get a cool shower afterward so that your body gets back to its average temperature before you go to sleep.
Try to find a gel cooling pillow along with the cooling pad. This is important to keep yourself at a cooler temperature from head to toe. You can also throw your sleep mask in the freezer during the day. Get it out at night, and you are all cool for a sound sleep.
Always wear lightweight and loose clothes during the night. The more you are open to the air, the less are the chances of sweating. If you are ready to put in some extra effort, you can ice your body's pulse points.
To prevent your apartment from heating, do not use the stove and oven-like things before sleeping. It is rather beneficial if you do not use it at all at night. Also, open up all the ventilation in your room and that of the entire apartment to maximize airflow. The fresh, teasing air will never disappoint you, even if it is warm.
Choose your bedsheets of cotton, polyester, or microfiber. These materials are really good at trapping heat, keeping your bedtime cool and cozy.
chiliPAD and BedJet FAQs
Do cooling pads and toppers actually work?
They make the temperature comfortable for you by trapping the heat. Cooling pads don't do any miracle. They are suitable for regions with mild summers. However, if you live in a scorching area, you need to look for something more useful than cooling pads.
How effectively does a chiliPAD work?
chiliPADs have got cold water circulating through them, making a noise that is troublesome for many people. It will cool your mattress due to the cold water running through the system. It is also known for warming the bed by running hot water instead of cold. This property is, however, not as effective as the cooling one.
How loud is a chiliPAD?
chiliPAD is really loud. It uses a lot of electricity as well. It has to run cold water through the system to cool down the room, which consumes electricity and produces a loud noise.
How can I keep my chiliPAD clean?
The pad is washable, which you can easily clean by putting it into a washing machine with some precautionary measure. To clean the control unit, you can use compressed air to remove dust from the screen. You need to add hydrogen peroxide into the reservoir. This will keep the circulation system clean.
How durable is a chiliPAD?
The tubing is made of silicone, whereas the mattress pad is made of poly-cotton material. These materials are really durable and cannot be degraded if used in normal conditions. Animal claws will not cause any harm to it.
How does a BedJet control heat?
A BedJet blows cool air directly into your bedding, which lessens the effect of heat and cools the overall bed. You can simply attach the device to your existing mattress. It is compatible with any bed type. You simply need to adjust it under your bed and leave the rest to the BedJet.
How loud is a BedJet?
It produces a whirring noise. The noise will be less in the beginning, which will increase as you speed up the fan. The noise is uncomfortable for some people and joyful for others.
How can I run a BedJet?
You can connect the BedJet to your mobile app by downloading one. You need to press the blue window, which you will find on the bottom left of the screen where it is written "Pair". You need to select your device, and the pairing will begin.
Does the BedJet require maintenance?
You do not have to put much effort into its maintenance. The only thing you should look after is its filter. Wash it every two to three months, and you are good to keep the BedJet lifetime.
Can I wash the BedJet filter?
Yes, the BedJet filter is totally washable. You need to release the grill, take out the filter, and wash it under the sink. Replace the grill as you took it out.
Now that you have a complete idea about what a cool system is, how the different types work, and the advantage of using it, you must be getting chills about finding one? Didn't I tell you in the beginning that it will be a complete guide? Here I am with some of the best bed cooling systems you should have in your bedroom. I will discuss all the features of these products, one by one, with their pros and cons.
BedJet 3 Climate Comfort for Beds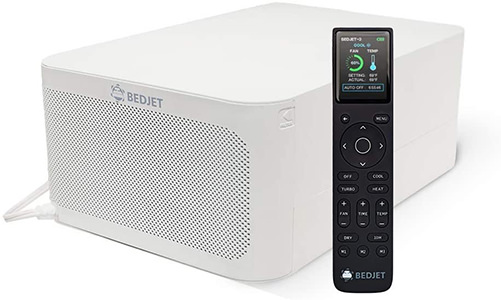 Pros
No mess of wire or electricity in the bed. No worry about the tubes or leaking water.
BedJet works great for temperatures less than 80.
No stress of mattress pads. All you need to do is, fit it underneath the bed, having 6″ of space.
Cons
It cannot work above 80. Not a replacement for an air conditioner.
Gets really noisy, not for sleepers who want to sleep peacefully.
Would give a cheesy look to your bedroom; better avoid it if you are bedroom decor conscious.
BedJet is basically a device, which keeps your bed cool by regulating the temperature. It gives you relief from sweaty nights and a warm bed. It is suitable for couples, mostly those who cannot stay on the same page when it comes to temperature.
Why BedJet?
It will give you relief from the heat within 10 seconds of operation. If you look for something that gives you instant relief from sweat, heat, body moisture quickly, get a BedJet right now.
Its night sweat management system is just so good that it lessens the body moisture instantly to make the environment comfortably dry for you.
The best of the best features is "dual-zone". This is where it proves promising for couples with significant temperature preference differences. With this dual-zone quality, you can keep half of your bed cool while the other half warm.
You can save electricity and thus your money by purchasing it. There is no need to heat or cool the whole house. Only heat/cool the area you want to sleep in.
What type of bed should I have to install it?
One useful thing about BedJet is, it can be used with any type of bed or mattress. You can have a small, big, adjustable, or simple bed; it will be compatible with any of them. You just need to measure the size of your bed and get a BedJet accordingly. The color of the BedJet is white, which is made up of plastic. It is usually available in four different options.
BedJet 3 – any size bed with a single temperature zone.
BedJet 3 – king-size with dual temperature zone.
Cloud sheet with dual-zone KING.
Cloud sheet with dual-zone QUEEN.
You can select any of the options that are mentioned above according to your needs. The prices vary depending upon the size you select.
How to set up the BedJet?
Make the bed first by placing the fitted sheet on the mattress. You need to place the cloud sheet on the top of the fitted sheet. It is your choice whether you want to put it or not; however, it is recommended for the best results.
For a single zone BedJet, you will find 3 openings in the cloud sheet. You will decide where you want to insert the nozzle. The next step will be assembling the mattress mount base. Insert it under the bed where you want to put the nozzle. Attach the nozzle to the hose and the hose to the mattress mount. Make sure the nozzle is resting just above the mattress. Join the end of the hose to the nozzle of the BedJet. Right after this, snap the opening of the cloud sheet and drape the gap over the nozzle.
Plug the BedJet into the outlet and turn the BedJet on. You can control it using the remote control or the mobile app.
That's it; enjoy an undisturbed cozy slumber on your comfortable bed. You can watch a video here to get an idea of setting it up step by step.
chiliPAD Cube 3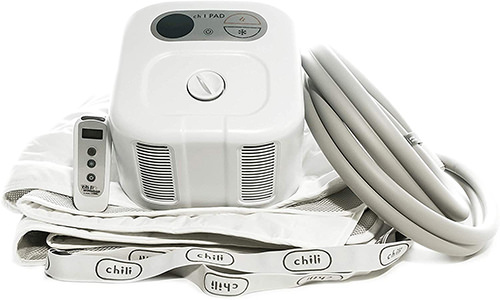 Pros
Easy to set up and comfortable while it runs
You can use them all year round
Comes with a dual-zone, which means you can maintain two different temperatures of bed simultaneously.
Cons
chiliPADs are a bit expensive.
It is more like a hospital design and does not have a house comfort.
A mattress protector is needed to prevent the device from water leakage.
A chiliPAD is a cooling system designed to help you sleep peacefully during sweaty summer nights. A chiliPAD system comes with three pieces: a temperature control unit, a hydronic pad, and remote control. Set the system once in your bed, and you are all to enjoy cozy sleep in your sheets.
How does it work?
A chiliPAD pad works by placing a mattress pad on your bed, connected to a unit containing a thermostat. The pad includes micro-tubes through which the water circulates continuously. The water circulating in the tubes maintains the temperature and provides you a cooling effect.
The pad can support the weight of 500 lbs easily. The design is so comfortable that you do not feel like sleeping on tubes at all. The tubes are so small that they are almost negligible. Water is always the right and easiest way to cool anything. chiliPAD has developed this design keeping the specific heat capacity of water in mind.
Size of the chiliPAD
chiliPAD is available in various sizes. You can choose one according to your needs.
Single 30W" x 75L" x 3/4H" – single zone.
Twin extra large 38W" x 80L" x 3/4H" – single zone
Full 53W" x 75L" x 3/4H" – single zone
Queen 60W" x 80L" x 3/4H" – dual zone
King 76W" x 80L" x 3/4H" – dual zone
California King 72W" x 84L" x 3/4H" – dual zone
Split California King 36W" x 84L" x 3/4H" – single-zone
How to install a chiliPAD system?
Start by placing the hydronic pad on the top of the mattress, placing the fitting sheets over it. You got the tail (two tails in case of dual-zone chiliPAD) coming out of the pad now. Get the tail and plug it at the back of your control unit. You will get two control units for a dual-zone chiliPAD. Now you need to take the cord of the control unit and plug it into the outlet.
Before switching the control unit, you need to pour some water into it. Use the distilled water to prevent the system from any damage. Add the right amount of water into the cube slowly. If the water you added is not enough, it will be displayed on the control unit screen in the form of a flashing water droplet.
The last stage is to set up the temperature according to your needs using a remote control. You can see the temperature displaying on the screen as well.
You're ready to enjoy a peaceful slumber.
OOLER Sleep System
It is a cooling pad made of chili technology. It is almost similar to the chiliPAD cooling system. It consists of a shoebox control unit with a pad containing tubes inside where the water circulates.
It has an uncomfortable design in which the tubes are stitched to the pad. You have to put your bed sheet on top of it. Even placing the bedsheet on the top would not help. The protruding tubes make it quite unpleasant to lay on the bed.
How it works
The rubber-tubes inside the pad are connected to the control unit. The control unit contains the thermostat. A tank of water is also placed inside the unit. The thermostat inside the unit cools the water and then pumps it towards the tube. The cold water circulating in the tubes traps the heat and gives you a cooling effect while you sleep on it.
You can set the temperature anywhere between 55 to 110 degrees. This means that it will be useful to warm the bed in the winter season and make the bed cool during summers.
The control unit will connect to your mobile app as well. It will suggest you set up the alarm. The alarm basically works to wake you up by heating up the bed gently. You can choose to wake up this way or not; it depends upon you entirely.
How to install?
Pick up the pad and place it on your mattress. Set up your bed by placing the fitting sheets on top of it.
You will see two hoses coming out of the pad; you need to connect them to a control unit, which completes the cooling system.
Attach the power cable to the control unit first and then to the cord.
Fill the water tank by taking out the valve covering the tank and filling it with an adequate water amount. It doesn't come with remote control, so you have to install the app and pair the device with your smartphone.
All set to adjust the body temperature and get a perfect refreshing sleep.
The Pod by Eight Sleep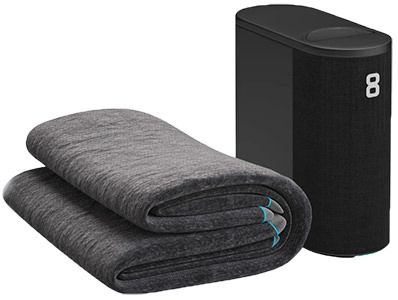 Pros
No worries about buying a separate cooling pad.
Sleep tracking, HRV tracking, and gentle wake-up system all in one.
Consists of five layers, which is ideal for people who prefer mixed-foam mattresses.
Cons
It is costly compared to ordinary mattresses and other cooling systems.
The company ships to the US only.
Makes a lot of noise, and the mattress's slight rigid surface is uncomfortable for some people.
Eight Sleep is a brand of mattress and bedding accessory that had released the pod smart memory foam mattress in 2019. This product was such a game-changer, consisting of technology that can adjust the temperature according to your needs.
Composition
It is a mattress consisting of two layers; polyfoam and memory foam. The Pod Pro has an "active grid," which tracks various things like your sleeping patterns, breath rate, heart rate, movements, and a lot more. All of this will be visible on the Eight Sleep smartphone app.
How does it work?
It basically consists of a built-in tubing system. There is no need to have a cooling mattress topper or pad if you own this mattress. Its hydro-cooling technology will let you sleep all night comfortably.
The integrated tubes inside the cover are connected to a water reservoir called "Hub". The hub is used to control the temperature. The hub is similar to the control unit that comes with water cooling pads. You can set the temperature according to your need anywhere between 53 to 115°.
The best feature of this mattress is that it is two zoned. This means you can adjust two different temperatures on either side of the bed.
Another cool thing is the smart alarm. This is going to be my favorite feature. The alarm wakes you up by vibrating gently on the level of your chest. You will wake up all cool and fresh without getting frustrated by the noise of your alarm clock.
Moona Smart Pillow Temperature Device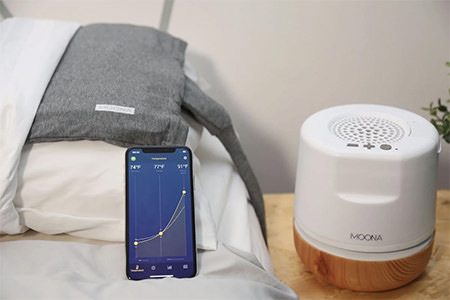 Pros
The smart alarm wakes you up gently.
Useful invention to keep your neck and head cool for a productive day.
Tracking through the smart app is another helpful feature.
Cons
It only cools your head and not be able to chill your other parts of the body.
Expensive.
Water pumping could disturb you while sleeping.
Your body needs not only to be cooled, but your head and neck area also need to be chilled for your brain to function correctly. Keeping this in mind, Moona, a revolutionary device, was introduced. It is the first active cooling pillow.
How does it work?
Moona smart pillow regulates the temperature by producing a cooling effect to help you sleep better during hot summer nights. The complete set up includes a Moona device and a pillow pad.
Moona device
You only got to place the device on your bedside table. It is single zoned. The device is filled with water, and then it works like any regular water cooling pad. The only difference is the smaller size built for your head and neck according to a standard pillow size. This device not only heats or cools the water but is also useful in tracking humidity, room temperature, and level of light.
Pillow pad
The tubes in the pillow pad are connected to the Moona, regulating the flow of cold water in the tubes. The water is cooled by the Moona before pushing it towards the tubes. It can also warm up the water to wake you up in the morning. The pillow pad is composed of memory foam.
Moona App
You can pair the device to the Moona app on your smartphone and regulate the temperature and easily track other things.
The size of the pillow pad is thirteen inches high and nineteen inches wide.
Conclusion: our pick
So we did a clear discussion on the most popular cooling devices, chiliPAD, Ooler, the Pod, Moona pillow pad, and the BedJet. When the time comes to select any one of them and announce the clear winner, it gets a bit difficult.
First thing first, you all need to understand that all the above-mentioned cooling devices are not a replacement for an air conditioner or a central heating system. They are just good cooling and warming devices, not suitable for working during intense heat days.
Ooler, chiliPAD, the pod mattress, and the Moona pillow pad work on the same principle of water cooling. The BedJet is an air cooling device. All of these are perfect to have a peaceful night. The only thing that decides the winner is the price range. Considering that, Ooler sleep system is the most affordable one with really great features. Still, if you do not need those extra features that the Ooler offers, you can go for the chiliPAD.
It was important to describe the clear winner to give you an idea of why that specific product was distinct from the others. Get yourself a super cool cooling system now, and enjoy your summer nights sleeping sound and peacefully.